You may be trying out golf as a new activity and don't want to invest in pricey golf outfits, or you may not be familiar with the dos and don'ts of golf attire and don't want to waste money on the wrong items.
If you are thinking about what to wear golfing if you don't have golf clothes, you can use basic clothing from your wardrobe in any of these situations, and it will function on the course just as well as any recently acquired golf outfit equipment.
It's reasonable to feel a little anxious about what to wear on the golf course, especially because there is a dress code and the style guide on the course is known for being streamlined and rigorously professional.
I'm here to help you seem just as impressive an athlete on your first day as those who have been playing for years with carefully chosen pieces from the collection, which you can view here and match to your current closet!
The LPGA dress code does not mandate that professional tour players wear "golf gear," as you may have noticed. A person can dress appropriately and comfortably for golf without ever buying a golf shirt, skort, or rain suit, despite what the makers of golf apparel would have you believe.
This is encouraging in a sport where expensive equipment and astronomical green fees are common.
However, the average person doesn't need to spend any money on what to wear for golf. Most likely, you already have all of the equipment required for a round of golf.
What to wear golfing if you don't have a proper golf outfit?
If you are worried about what to wear golfing if you don't have golf clothes, know that golf clothing regulations aren't quite as strict as some people think, so you can still experiment with a wide range of hues and patterns for a touch of flair.
Everyday Tops as casual golf attire
A collared shirt, preferably made of a light, moisture-wicking fabric is the first item of clothing you should concentrate on wearing to check all the proper boxes. This is vital to ensure perspiration absorption to let you continue unchecked with the game.
A classic button-down (preferably with some stretch), a bomber jacket, windbreaker, or sport pullover, a light sweater, and a short sleeve or sleeveless collared shirt are all excellent non-golf options. Even a mandarin or ruffle collar would be acceptable in most courses nowadays. It will most likely function if it has SOME form of a collar.
Avoid wearing clothing that is too tight because it restricts your movement. Avoid wearing anything that is excessively loose since it may flap in the wind and cause you to lose focus on the game.
These recommendations are based on what would be acceptable at most clubs from a typical wardrobe. Still, verifying your particular club's policies doesn't hurt to avoid being denied the opportunity to play.
➡️ Check out Zora's advice in this guide if you want to save money on women's golf attire.
Everyday Bottoms as casual golf attire
Whether you have a pair of breathable, neutral-colored slacks or shorts, those are probably a good choice for a day at the club, but you should check to see if they have any stretch or allow you to freely bend over or squat.
As long as they are not made of denim and are not workout-style gym shorts, shorts are also permitted. Just make sure they are a reasonable length and, as before, allow for mobility.
If you don't have a skort on hand, you can alternatively cover up with a skirt and a pair of undershorts. It is not advised to wear a skirt without undershorts since you will need to bend and squat a lot to pick up your ball and put on your tee, and you want the coverage to prevent any unwanted exposure.
Golf is a game where you can experiment with colors. While the traditional colors of golf attire shorts continue to be khaki, navy, black, white, cream, tan, and beige, experimenting with different hues and patterns may be a lot of fun.
Being more playful and donning flirting golf attire to display a little bit of personality has become the standard in recent years.
Everyday shoes as casual golf attire
Sportswear companies need to offer alternatives that are moisture-wicking if you are playing outside in the summer. Your performance on the course will also depend on your choice of footwear.
Running shoes with flexible rubber and plastic spikes are good handholds for swinging your arms and preventing slipping.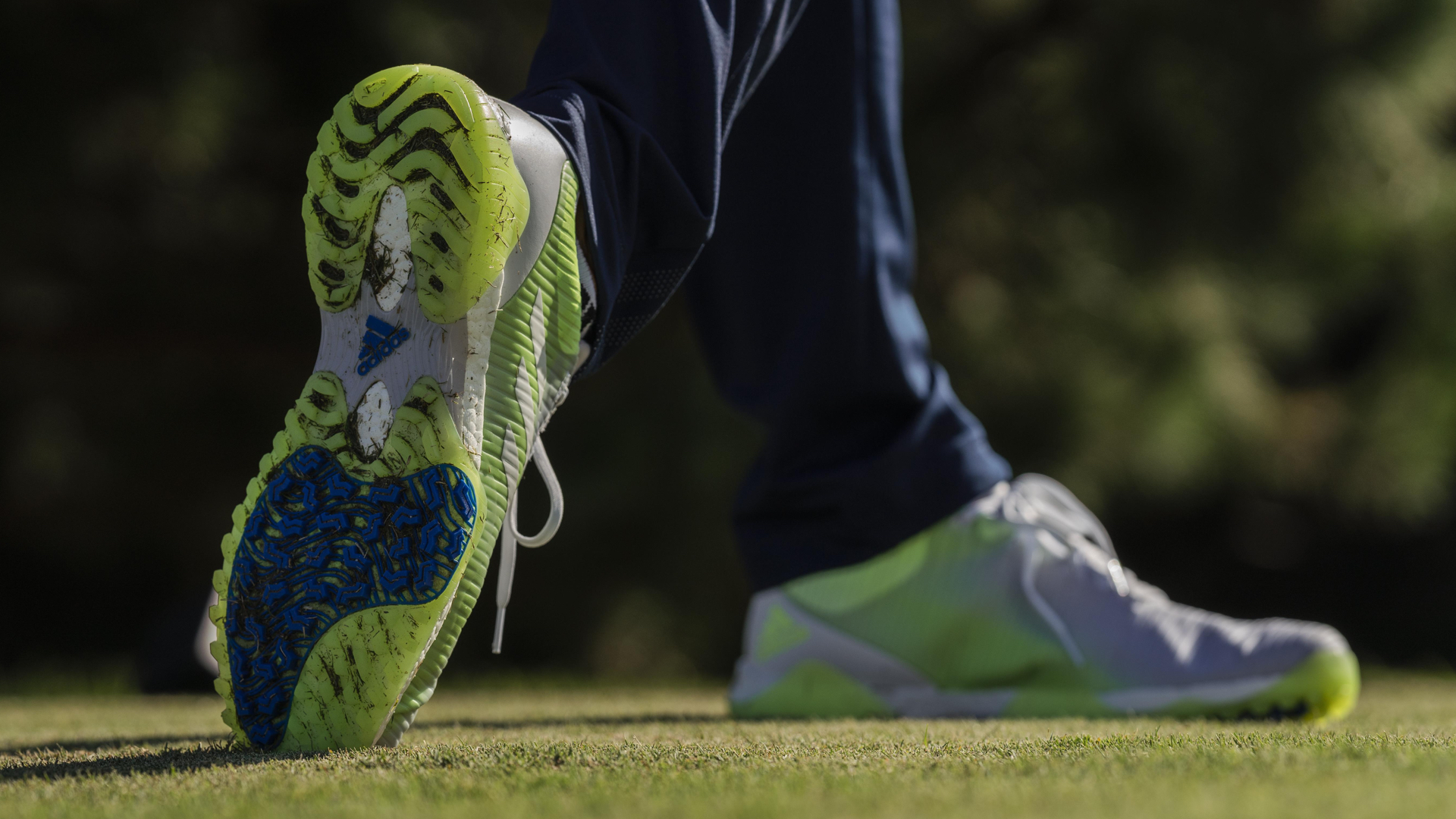 You could get away with any pair of tennis shoes if you only want to play once, but if you continue with it, grip from your shoes is essential to a decent swing and a successful game. 
Long cut short, pick the one with a good grip on the ground and better comfort; And, if you play golf often and are damn serious about the game, golf shoes are what I never compromise on. Because with wrong choices, you can face foot pain and also it impacts your game. Be wise, and go with some affordable spikeless golf shoes.
Like I often use FootJoy FJ Fuel shoes, which cost around hundred and fifty bucks but give the most athletic vibes.
Everyday accessories as casual golf attire
You can utilize baseball hats or visors that you have from participating in other sports to shield your eyes from the sun. But stay away from big summer or cowboy hats. The best accessory to wear on the course is a straightforward wristwatch to serve as your timekeeper.
Sunglasses are a need to prevent spending four hours squinting because a large portion of your game is spent staring up at the sky to see where your ball lands. Another important function of socks is to keep your feet dry and comfortable. Choose a pair of performance socks that are wicking and breathable.
A short guide for golf outfit substitutes
First of all, think about what you wear for school or work; half of your "what to wear golfing if you don't have golf clothes" problem will be solved. Eliminate blue jeans, boots, and the oxford button-down.
Pocket-equipped long pants, capris, skirts, or comfortable shorts
Shorts or skirts of any length are acceptable if you're playing on a public course and non-blue denim jean types are also acceptable. Avoid wearing short shorts and jeans styles on private golf courses. Simply select washable, comfortable bottoms.
A comfortable, stretchy shirt that moves with you
For a private course, this might have a collar or mock turtleneck, and depending on the temperature, it might have short, long, or no sleeves.
A dress is preferable to both of the above! You can wear a stretchy, knit dress for golf if it's comfy to move around in. Leggings should be worn underneath if it is short if the weather is chilly.
Wearing comfortable underwear
The best option is a bra without wires and pants that don't ride up easily.
In case the weather changes, bring a sweater, pullover, or jacket
Wool is a traditional material that will keep you warm and largely dry. However, clothing for the gym, running, or biking may be more sophisticatedly weatherproofed.
Sports, tennis, and walking shoes
Nobody will notice that you are sporting your favorite pair of Sketchers or cross-trainers, regardless of what you may have heard about "golf shoes required." Just be careful when walking on the greens until you decide to invest in proper golf shoes.
Socks
After your first excursion into a bunker, you will be thankful for them, no matter how small they may be.
Shades and a hat
Since it has a hole in the back, a baseball cap counts as a golf hat and can be used to tie your hair up. Driving a golf ball can be accomplished with glasses used for driving a car.
In case you are curious about what perfect golf attire looks like, you Must check out these guides:
📌 What to wear for golf men
📌 Beginner casual golf attire for ladies
Frequently Asked Questions
You might have a lot of questions about what to wear when you first start playing golf. Recently, I've introduced a few folks to golf, and these are some of the most frequent queries I've encountered.
Can you golf in normal clothes?
Jeans and other casual apparel should be OK if it's merely a typical municipal course. At a country club or private course, jeans are the only type of range that is prohibited. You must wear proper golf attire on these ranges because they are much stricter than others.
Can I wear leggings to golf?
At most golf courses, wearing leggings like yoga pants or compression trousers is seen as appropriate golf gear. Only when playing golf at a posh country club or private course may you be prohibited from wearing leggings.
The course website is the best place to look to verify this. They usually indicate what you can wear if they have a section for their dress code. You probably won't have any problems wearing leggings if they don't specify their dress code.
What should girls wear to golf?
The golf dress code for women includes collared shirts, knee-length skirts, skorts, shorts, or pants, and golf shoes. Many women also use other clothes and accessories when playing golf, such as visors, golf hats, and polarized sunglasses.
When playing in the early spring or the fall, the majority of female golfers choose to wear pants. Shorter pants like crops, shorts, or capris are excellent choices for somewhat warmer days. Golf dresses, skorts, and shorter pants are other fashionable options to consider (knee-length or longer).
Can I wear joggers to golf?
On the majority of golf courses, wearing joggers is considered appropriate clothing. Private courses and upscale country clubs are the only places that forbid joggers.
You can wear joggers to your local golf without any problems. Just make sure they are spotless, neat, and without any holes. I've worn them a lot and never had any problems.
In a more upscale country club, the dress code might be more stringent. See if they make any mention of it on their website. Most places will state that you cannot wear denim or long, thick pants.
Final Words
If you're unsure about what to wear for golfing and if you don t have golf clothes, consider your desired appearance. Do I want a sexy appearance? Classic? Professional? Glamorous? Then wear clothes that convey that. Put on a white blouse and some classy slacks to project a professional and timeless appearance.
Whatever your preference, keep in mind that balance is key; you don't want to overdo any one aspect of your clothes.
Jabez is the guy who started this blog with Bryan. He's been playing golf since a young age and has a lot of experience to share. But more importantly, Jabez is someone who is always looking to help others out. He's got a great sense of humor and is always up for a good laugh. But most importantly, Jabez is someone who cares about his followers and always wants to help them improve their game. For any queries reach out to him at Jabez@iamlearninghowtogolf.com.